| | |
| --- | --- |
| | Discover the mystery of DNA, the blueprint of life. Build your own DNA model using the 71 Zome pieces included in this kit. It's a fun science project, complete with recommended readings! And step-by-step instructions make it easy. |
More than just a pretty molecule, DNA is always in today's headlines. Read all about it with loads of DNA factoids like this one: If you stretched out all of the DNA in your cells, it would reach the moon -- 6,000 times!
Parts Inventory:

The Zome DNA Kit contains 71 Zome Pieces: 30 Zome Balls in 5 different colors and 41 Struts in 3 different colors (blue, yellow and red) and two lenghts (short or medium).
To download a pdf file of building instructions, click here.
view of the finished DNA model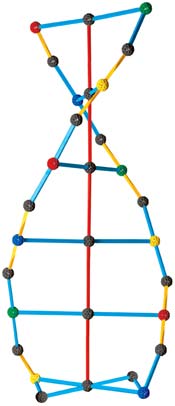 Ozpod Pty Ltd supplies Zome System to educators, children, specialty retailers, scientific institutions, and experimental users in Australia.
DNA Kit awards
Dr. Toy: 10 Best Toys for 2002
Dr. Toy: 100 Best Children's Products 2002
Parents' Choice: 2002 Approved Award
Parent's Guide to Children's Media 2002 Award
Science series