Zome Learning Adventure kit with DVD
1188 precision Zome components: 300 white connectors, 360 blue struts (120 each of super short, short, medium) 240 yellow struts (80 each of super short, short, medium) 144 red struts (48 each of super short, short, medium), 144 green struts (48 each of super short, short, medium)

Zome Learning Adventures Volume 1 interactive DVD
Bubble Adventures activity book (3 volumes in one)
Zome Manual 2.1 with instructions for over 100 Zome models
all fitting inside a 13" x 10" x 10" carrying case with handle

A great introduction to Zome, already used successfully in thousands of schools worldwide.
Zome System is a powerful design tool and educational toy
Thousands of creative uses capture the imaginations of children and Ph.D.s everywhere.
"You don't have to be a rocket scientist to enjoy Zome System. But we love it too," said NASA Scientist, Dr. David Noever. National Aeronautics & Space Administration uses Zome System to research space frames and to study the effects of weightlessness on colloid crystals.
| | |
| --- | --- |
| 6,000 schools in seven countries use this construction toy to teach mathematics, science, art and technology. Zome kits have won 21 national toy awards. Bubbles, DNA, Buckyball | |
Ozpod Pty Ltd supplies Zome System to educators, children, specialty retailers, scientific institutions, and experimental users in Australia.
For information and trade enquiries telephone (03) 9499 2161
Building Tips color and shape show the way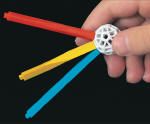 Lesson Plans to view online or download and print.
Teaching with Zome System: information for teachers.